Good Morning and happy Saturday. Today's post isn't a card yet but I wanted to show you guys something I did last night. A few weeks ago
Jennifer McGuire
shared this card and die. I had to have it. It is from
Papertrey Ink
and when I saw it I thought you only got the large hugs and boy was I surprised when I saw what you all get.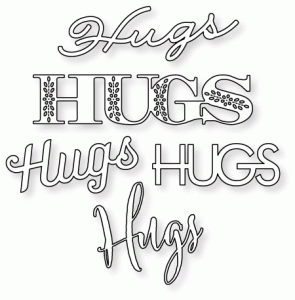 So last night I wanted to play with these so I took some watercolor paper and my Zig Clean Brush Markers and sat down to play. I picked out some colors and laid down some color on the watercolor paper.
Pink is 025 and 026. Purple is 030 which is Blue and 080 which is Violet

Orange is Carmine Red 022, Orange 070 and Yellow 050
Blue is Blue Gray, Persian Blue, and Blue



I put down the colors and then took my Aqua Painter and blended them out. I used the white Gesso that came in my September Simon Says Stamp kit. It is pretty thick so I diluted it with water and took a paint brush and tapped white speckles onto the all the color swatches. On the purple one, I took my clear Wink of Stella pen and squeezed out some of the glitter and took another paint brush and added glitter spots by tapping the brush. You don't need very much of the glitter from the pen because it very liquid and it dries really fast so you don't want to use too much. Once you are done with the Gesso paint brush rinse right away to get all the Gesso out. I let everything dry for probably two hours and then I pulled out my Big Shot and turned the above photos into this.
The big Hugs is very delicate once you die cut so you might want to add a layer to make it stronger which was a little difficult but I did without tearing it. When I did the swatches I wasn't sure how it would turn out but I LOVE them. My favorite is the big Hugs. I love how it turned out and I will be making cards with them in the next couple of days. I also included the link for Jennifer's video. Enjoy! Thanks for stopping by.
Andi